Thousands
Reviews Online
Laptop Screens


MADE BY LG, PHILLIPS, AUO,
SAMSUNG, HANNSTAR, CHI-MEI Details
1-855-630-1111
+1-206-299-0699 outside of continental US and Canada
M-F 3am - 8:30pm. S-S 11am - 7pm Eastern Time
We ship from:
Free
US and Canada shipping for 10+ screens orders
Our inventory is live, over 131300 screens in stock!
Correct backlight type for your new screen
All modern laptops use LCD screens:

LCD screens require a backlight system to operate, there are two backlight systems in use today: CCFL and LED

CCFL - Cold Cathode Fluorescent Light, is an older backlight method, which utilizes a daylight specter fluorescent tube and an inverter which powers it.

LED - is a newer backlighting system which does not use an inverter, and instead of a fluorescent tube it uses a strip of LEDs (Light Emitting Diodes).

So in essence there two types of laptop screens: LCD-CCFL and LCD-LED: these screens are NOT INTERCHANGEABLE.

Laptop manufacturers tailor their system for a particular LCD screen, so it is impossible to install a CCFL screen into a computer outfitted for an LED screen, and vice-versa.

The replacement screen must have exactly the same backlight type as the original (old) screen. Currently there are 2 major types of backlight for notebook LCD screens:

1. CCFL (Cold cathode fluorescent lamp)
a) 1-CCFL - contains 1 bulb
b) 2-CCFL - contains 2 bulbs

2. LED (Light emitting diode)

IMPORTANT! CCFL and LED screens are NOT interchangeable!
The CCFL backlight screens always need a high voltage inverter to power the bulb inside the screen. The LED screens use light emitting diodes to light up the screen. Most of the LED screens today require an inverter as well and the inverters of the two types are completely different. Inverters of the LED screens are attached to the bottom of the screen.
One CCFL (also known as "single backlight") - has been and still is the most popular backlight type in laptop screens. The screen contains one bulb to light it up and has a pair of wires at the bottom finished with one white inverter connector that plugs into inverter board.
See the picture right below: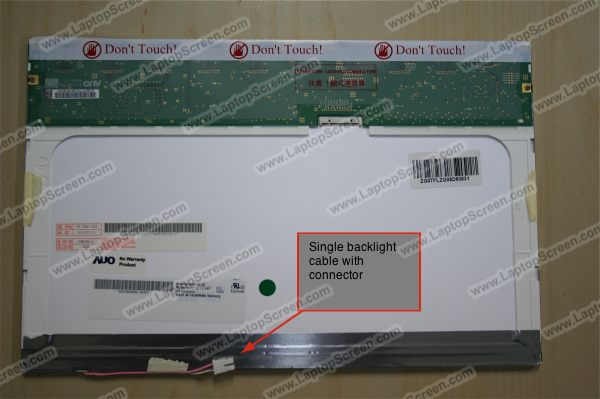 LCD screen with single CCFL backlight ( CCFL 1-Bulb )
Two CCFL (also known as "dual backlight") - contains 2 bulbs, has 2 pairs of inverter cables and 2 inverter connectors. This type of backlight is less popular than 1-CCFL and is used in laptop screens of size 15.4-inch and larger.
See the next picture:
LCD screen with dual CCFL backlight ( CCFL 2-Bulb )
LED is the new type of backlight which allows the screen to consume less power (which equals longer battery life), does not heat up as much as CCFL based screen, and is thinner and lighter. In LED screens backlight power is supplied in one of three ways: through video connection, through a flat ribbon cable or through an attached inverter. Also note that in LED screens of different resolutions the video connector can be entirely different.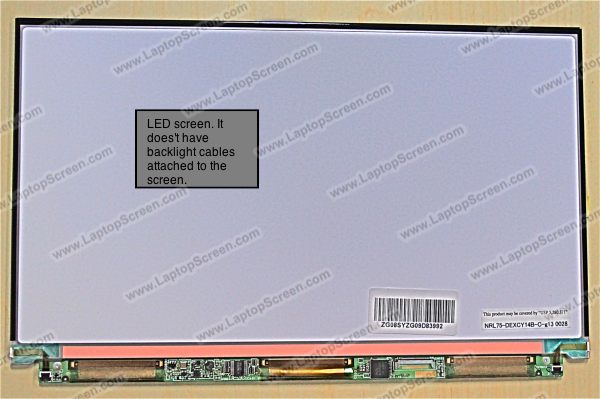 LCD screen with LED backlight ( Backlight Type: LED )
It is usually mentioned in the laptop specifications when the laptop screen has LED backlight.
To determine which backlight type screen is in your laptop you can remove and examine the screen - this is the best way. Alternatively you can check your laptop manual, check specifications online at your laptop manufacturer's Support section, or contact your laptop manufacturer.
LED screen can never be used to replace a CCFL screen.
This website is SSL secured!