Thousands
Reviews Online
Laptop Screens


MADE BY LG, PHILLIPS, AUO,
SAMSUNG, HANNSTAR, CHI-MEI Details
1-855-630-1111
+1-206-299-0699 outside of continental US and Canada
M-F 3am - 8:30pm. S-S 11am - 7pm Eastern Time
We ship from:
Free
US and Canada shipping for 10+ screens orders
Our inventory is live, over 131500 screens in stock!
Steps for locating the right screen
Important Note!
It is absolutely necessary to know the
SIZE
,
RESOLUTION
and
BACKLIGHT TYPE
in order to purchase the correct screen for a particular laptop.
Please, do not hesitate to
email us
your laptop make/model details if you are in need of assistance. Our customers are constantly amazed at how fast we reply.
Certain laptop models come in different screen sizes, resolutions and backlights. For instance, Dell M1330 may have LED or CCFL backlight. IBM-Lenovo ThinkPad T60 was released with either 15.4" or 15" or 14.1" screen size and these screens are not interchangeable. Macbook Pro 15.4" screens come in different resolutions and they are not interchangeable as well.
It is absolutely imperative that size, resolution and backlight of the original screen are the same as of the selected screen for purchase. Please examine carefully the screen description. If you are still unsure please, please
ask us
. You may also upload pictures of the back of your original screen that you are replacing. Please focus on labels (so the numbers are legible) and connectors and also include full shot of the back of the screen.
Manufacturers typically do not publish screen compatibility information and even if they do there are occasional mistakes in their manuals and specifications on their websites. Therefore the only sure way to get 100% correct screen is to check the size, resolution, and backlight.
NOTE
: Screens for Dell laptops must be chosen by the laptop model number ( i.e.
Inspiron 1525
). Choosing by the original screen model number can lead to wrong selection.
Below are step by step instructions
Measuring laptop screen size
Screen size is measured in inches, diagonally from corner to corner (see below) (1 inch=2.54 cm):
Laptop screens come in many different sizes with new ones being constantly added. Below you can see the most popular ones.
Ways of finding your screen resolution
Screen resolution is measured in horizontal and vertical pixels (ex.: 1024 x 768).
It is important to confirm the screen resolution before submitting an order: the same laptop model can come with different display resolutions.
If a laptop you are ordering a screen for works - turn it on and:
- go to
On-line Resolution Check
OR
- for Windows XP, Windows 2000, Windows ME, Windows 98: Right-Click on Desktop -> Properties -> then in Display Properties navigate to Settings
- for Windows Vista and Windows 7: Right-Click on Desktop -> Personalize -> Graphics Options
If a laptop you ordering a screen for is not functional:
- we recommend to pull your defective screen out and google screen model for specifications. You can find the screen model number on the sticker on the back of the screen. Check out our
simple video tutorials on laptop disassembling
and
Determine your LCD screen model number
article.
OR
- check your laptop manual under the laptop specifications section if you have one.
OR
- also you may be able to find you laptop specifications on manufacturers website using the laptop serial number, service tag or the model number (in Support section).
One way or another you are looking for something like this (list of known laptop screens resolutions as of April 2011):
Letters on the right are the common abbreviations and can be used as resolution indicators.
2048x1536 (QXGA)
1920x1200 (WUXGA)
1920x1080 (WUXGA) Full HD
1680x1050 (WSXGA+)
1680x945 (WSXGA+)
1680x900 (WSXGA+)
1600x900 (WXGA++) HD+
1600x1200 (UXGA)
1440x960 (WXGA+)
1440x900 (WXGA+)
1400x1050 (SXGA)
1366X768 (WXGA) HD
1280x1024 (SXGA)
1280x720 (SD+)
1280x854 (WXGA)
1280x800 (WXGA)
1280x768 (WXGA)
1152x768 (WXGA)
1024x768 (XGA)
1024 x 600 (WSVGA)
1024 x 576 (WSVGA)
800 x 600 (SVGA, outdated)
640 x 480 (VGA, outdated)
Good luck and remember: we do not recommend upgrading or downgrading the screen resolution, read
Upgrade or downgrade of the LCD resolution
article for more info.
Correct backlight type for your new screen
All modern laptops use LCD screens:

LCD screens require a backlight system to operate, there are two backlight systems in use today: CCFL and LED

CCFL - Cold Cathode Fluorescent Light, is an older backlight method, which utilizes a daylight specter fluorescent tube and an inverter which powers it.

LED - is a newer backlighting system which does not use an inverter, and instead of a fluorescent tube it uses a strip of LEDs (Light Emitting Diodes).

So in essence there two types of laptop screens: LCD-CCFL and LCD-LED: these screens are NOT INTERCHANGEABLE.

Laptop manufacturers tailor their system for a particular LCD screen, so it is impossible to install a CCFL screen into a computer outfitted for an LED screen, and vice-versa.

The replacement screen must have exactly the same backlight type as the original (old) screen. Currently there are 2 major types of backlight for notebook LCD screens:

1. CCFL (Cold cathode fluorescent lamp)
a) 1-CCFL - contains 1 bulb
b) 2-CCFL - contains 2 bulbs

2. LED (Light emitting diode)

IMPORTANT! CCFL and LED screens are NOT interchangeable!
The CCFL backlight screens always need a high voltage inverter to power the bulb inside the screen. The LED screens use light emitting diodes to light up the screen. Most of the LED screens today require an inverter as well and the inverters of the two types are completely different. Inverters of the LED screens are attached to the bottom of the screen.
One CCFL (also known as "single backlight") - has been and still is the most popular backlight type in laptop screens. The screen contains one bulb to light it up and has a pair of wires at the bottom finished with one white inverter connector that plugs into inverter board.
See the picture right below: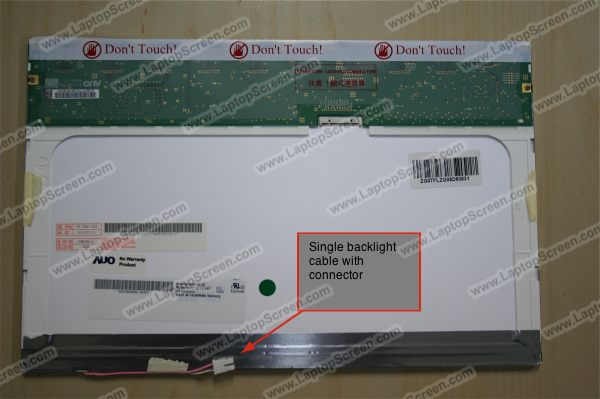 LCD screen with single CCFL backlight ( CCFL 1-Bulb )
Two CCFL (also known as "dual backlight") - contains 2 bulbs, has 2 pairs of inverter cables and 2 inverter connectors. This type of backlight is less popular than 1-CCFL and is used in laptop screens of size 15.4-inch and larger.
See the next picture:
LCD screen with dual CCFL backlight ( CCFL 2-Bulb )
LED is the new type of backlight which allows the screen to consume less power (which equals longer battery life), does not heat up as much as CCFL based screen, and is thinner and lighter. In LED screens backlight power is supplied in one of three ways: through video connection, through a flat ribbon cable or through an attached inverter. Also note that in LED screens of different resolutions the video connector can be entirely different.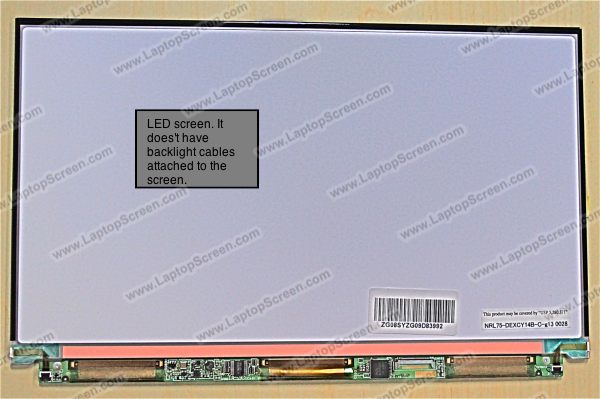 LCD screen with LED backlight ( Backlight Type: LED )
It is usually mentioned in the laptop specifications when the laptop screen has LED backlight.
To determine which backlight type screen is in your laptop you can remove and examine the screen - this is the best way. Alternatively you can check your laptop manual, check specifications online at your laptop manufacturer's Support section, or contact your laptop manufacturer.
LED screen can never be used to replace a CCFL screen.
Matte and Glossy screen finish: almost the same and interchangeable
Matte and glossy screens are interchangeable, it is only up to your personal preferences which one to pick.
The picture below illustrates the physical dissimilarities between the glossy and the matte screens installed on the same laptop:
Laptop screens with glossy and matte screens are entirely interchangeable since the difference lies only in the type of the screen surface finish.

Conventionally, laptop screens have had a matte, anti-glare finish, to scatter the reflected light. This characteristic, however, has a number of side effects, which include scattering the light from the display and increasing the blur. Additionally, it results in reduction of the contrast ratio, color intensity, and viewing angle.

Glossy screens use optical coating to reduce the amount of reflected external light. Their shiny surfaces reflect more light than matte displays, but they are less reflective than the uncoated glossy displays; reflections of external light sources are not diffused by glossy displays, so certain lighting conditions tend to favor a traditional, anti-glare screen. In controlled environments, such as darkened rooms, or rooms where all light sources are diffused, a glossy display may be more enjoyable for the viewer.

Glossy displays generate increasingly saturated colors, deeper blacks, brighter whites, and sharper images. This makes these types of displays more appropriate for general public use, which commonly uses laptops for viewing photos, watching movies, or browsing the web.

As a side note, in extremely bright conditions, where no direct light is facing the screen, such as outdoors, glossy displays can become more readable than matte displays due to their ability not to disperse the light around the screen.
Alternative glossy screen names by manufacturer
Each laptop manufacturer coined their glossy type screen monicker:

Acer - CrystalBrite
Acorn - Vybrio
AG Neovo - NeoV Optical Filter
Ahtec - Glare
Alienware - ClearView
Apple - Glossy
ASUS - ColorShine
Averatec - AveraBrite
Dell - TrueLife
Everex - DiamondBrite
Fujitsu - CrystalView, SuperFine
Gateway - UltraBrite
HP-Compaq BrightView
IBM-Lenovo VibrantView
LG - FineBrite
NEC OptiClear, SuperShine
Packard Bell - Diamond View
Sager - Super Clear
SONY - XBRITE, XBRITE-ECO, X-black, ClearBright, ClearPhoto LCD
Toshiba - Clear SuperView
(c) LAPTOPSCREEN INTERNATIONAL INC.
This website is SSL secured!