Shipping with Canada Post: delivery guarantees and tracking information
Screenshot of the online tracking log for the parcel delivered by Canada Post Express to Mississauga, ON Canada
You can track Canada Post parcels here:
Canada Post Tracking
LaptopScreen.com guarantess to ship all the orders the same business day if they were received by 4:30 PM EST. Otherwise the screen gets shipped out the next business day. Then package is picked up by Canada Post and can be forwarded to customer's local postal courier (international orders).
The parcels are delivered as commited by the courier and they are not guaranteed by our company. Delivery delays may caused by wheather, holidays, customs, etc. We do not offer any "faster-than-light" delivery methods and LaptopScreen.com is not liable for delays caused by the negligence of the courier and no refunds or compensations are offered in case of the delays in delivery.
International parcels are picked up by Canada Post and then redirected to customer's local Postal Service such as Deutsche Post (Germany), Royal Post (UK) etc., to be delivered within the country.
Although Canada Post displays the progress of the shipment online, their tracking system is not live and there is a delay in between the action and the update on the Canada Post website. There is no reason to panic if you don't see any progress online, it does not necessarily mean that the parcel is stuck or lost.
Below are the screenshots takes of the real parcels being delivered by Canada Post.
Please, consider the parcel lost only if the parcel did not arrive to your location past the following time frames:
Expedited Canada: 12 business days
Express Canada: 7 business days
Expedited USA: 18 business days
Express USA: 12 business days
No tracking International: 7 weeks
Express International: 12 business days
Screenshot of the online tracking log for the parcel delivered by Canada Post Expedited to Woodbridge, ON Canada
Screenshot of the online tracking log for the parcel delivered by Canada Post Expedited USA to Ithaca, NY USA
Screenshot of the online tracking log for the parcel delivered by Canada Post Express USA to Greer, SC USA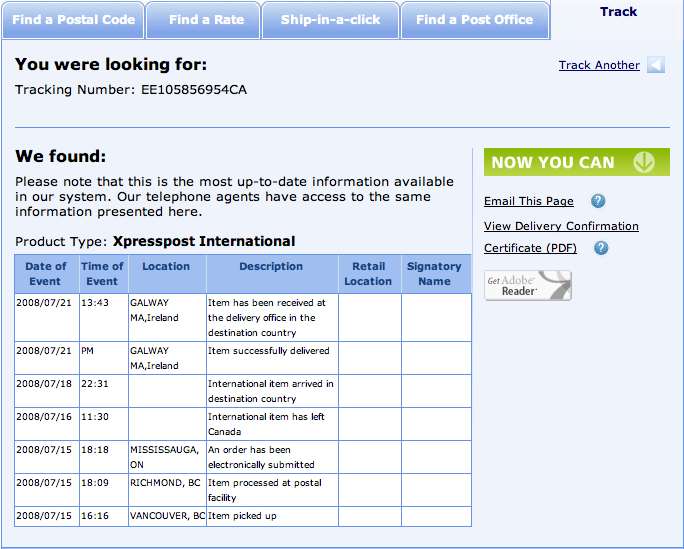 Screenshot of the online tracking log for the parcel delivered by Canada Post Express International to Ireland
Screenshot of the online tracking log for the parcel delivered by Canada Post Express International to Australia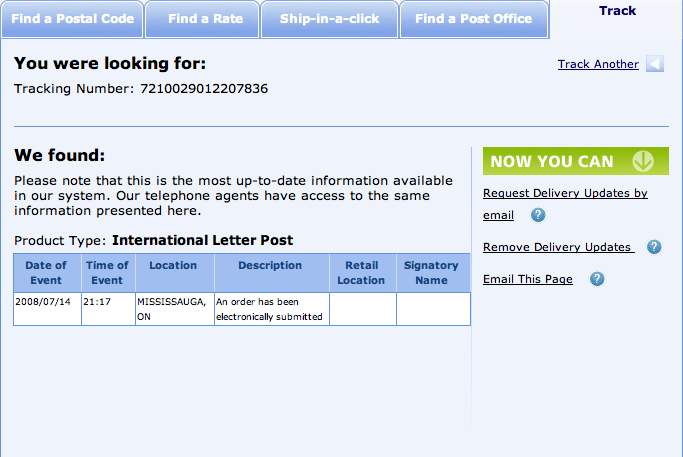 Screenshot of the online tracking log for the parcel mailed by Canada Post with NO Tracking international service
, last updated June 14, 2018