Shipping with UPS: options and delivery times
The UPS service used by our company is both fast and reliable. It provides detailed tracking information, which can be accessed online at any time. Please note, UPS does not deliver to PO boxes, APO, or APE destinations. Orders that have that type of destination are delivered via Canada Post or USPS.

See the picture below for UPS shipping options available within Canada and Internationally and their approximate delivery times. Be advised that the number of service options offered varies depending on your destination.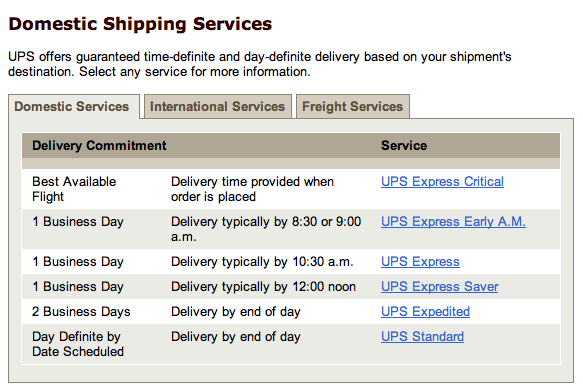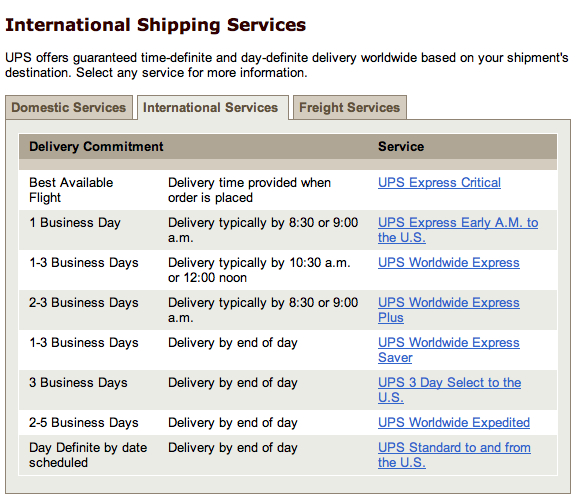 Please be aware that LaptopScreen.com is not a courier company and expected delivery times listed on our website or presented to you at the checkout are offered by UPS. Delays can be a result of bad weather, holidays, Customs etc. We are not liable for the delays caused by the courier.

For UPS, shipping orders are taken up to and including 4:30 PM EST. If the order is submitted past 4:30 PM EST, it will get shipped the following business day.

For all tracking inquires or concerns regarding the shipment, please, contact UPS @ 1-800-PICK-UPS.