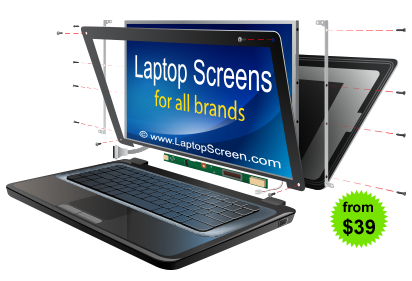 genuine original laptop screens
authentic oem parts
All screens are brand new
Every order ships same day
Search screen by
laptop brand Choose your brand:
ASUS laptop screens
ASUS laptop screens
Search screen by
screen number Choose your screen number:
LTN156at07 (A1)(E4)
Search screen by
Laptop Part # Choose your laptop part #:
AK 1457.0014
Sort review by
I would like to say huge thank you to the LAPTOPSCREEN.COM. Today I changed display on my laptop, everything is perfect, the shipment was incredible fast.
Keep up the good work.

Thank you again.

Martin Kappler May 21 2013
Note! This is original review by customer.
I wanted to let you know -

I received my screen quickly, watched the convenient install video on the site, and had it swapped out 20 minutes later. I'll definitely shop with you again if I need another screen in the future.

Thanks again!

Jim R

Jim Rudisill May 19 2013
Note! This is original review by customer.
I have been repairing computers for over 10 years, and for once, I can say, that I don't have to struggle to find quality parts and low prices, and your shipping si super fast, which impresses my clents, many thanks.

Farres NemerMay 19 2013
Note! This is original review by customer.
Very impressed with the price and quality of LCD I received. It was the exact make that came out of my system. Thank you very much. I will definitely use you guys every time.

Thank you!

Matt VanDerburghMay 18 2013
Note! This is original review by customer.
I ordered a replacement screen from LaptopScreen.com and was very happy with
the entire outcome. The prices were very good, the service was first rate and the videos were extremely helpful. After watching a few videos I felt like I had replaced
laptop screens all my life. I would and have already recommended LaptopScreen.com to
anyone needing a replacement.
P.S. I don't usually write recommendations but I have to say,"these people are good".

Salvatore GuarneroApr 27 2013
Note! This is original review by customer.
Due to you guys I look forward breaking my laptop screen. Shipping confirmation 15min after ordering. Cheap and neat. Keep it up!


- Regards from Norway



Morten Randeberg Apr 26 2013
Note! This is original review by customer.
INSANE DELIVERY :-)

I ordered a new laptop screen for my Sony Vaio, it was shipped on Monday 22nd of April and it arrived in Ireland to my house on Wednesday 24th of April! If I was to order the same screen here in Ireland it would have taken longer to get to my house.

Superb service, Excellent price and got exactly what I ordered !

I would highly recommend Laptop Screens.com and will definitely do business with them again.

Thank You so much,

All the best,

Stephen

Stephen PrattApr 25 2013
Note! This is original review by customer.
Acer

Laptop Screens
ASPIRE 9411AWSMI
Apple

Laptop Screens
MACBOOK 13" MA254
ASUS

Laptop Screens
VX1 Lamborgini
Averatec

Laptop Screens
AV7115-EH1R
Clevo

Laptop Screens
M570RU
Dell

Laptop Screens
INSPIRON E1705
eMachines

Laptop Screens
EMACHINES D725
Eurocom

Laptop Screens
SCORPIUS P370EM
Fujitsu

Laptop Screens
LIFEBOOK C6155
Gateway

Laptop Screens
CX2756 TABLET
HP-Compaq

Laptop Screens
HP COMPAQ NX9420
IBM-Lenovo

Laptop Screens
LENOVO THINKPAD G530
LG

Laptop Screens
P310 CAMINI
MSI

Laptop Screens
WIND U120
Packard Bell

Laptop Screens
EASYNOTE A8
Panasonic

Laptop Screens
TOUGHBOOK CF-W4
RoverBook

Laptop Screens
VOYAGER W500
Samsung

Laptop Screens
M60 SERIES
Sony

Laptop Screens
VAIO VGN-TZ290NAP
Toshiba

Laptop Screens
PORTEGE R600-S4201
We have shipped to
USA:
New York, Bellingham, Fort Lee, Lebanon, Titusville, Bronx, Pineville, Terrace, Pearl, Cleveland, Rockford, Jackson, Coshocton, Rogers, Los Angeles, Miami, Chicago, Fayetteville, Elko, Seattle, Everett, Spokane, Portland, Salem, Eugene, Medford, San Francisco, San Jose, Sacramento, Redding, Fresno, San Diego, Needles, Las Vegas, Phoenix, Nogales, Salt Lake City, Flagstaff, Santa Fe, El Paso, Missoula, Helena, Boise, Denver, Colorado Springs, Bismark, St. Paul, Grand Forks, Madison, Moorhead, Billings, Idaho Falls, Austin, Dallas, Oklahoma City, Tallahassee, Columbia, Atlanta, Kansas City, Nashville, Lincoln, Springfield, Des Moines, Anchorage, Eureka, Bethal
Canada:
Vancouver, Calgary, La Ronge, Innisfil, Macgregor, Barons, Saskatoon, Thunder Bay, Estevan, Watson Lake, Ancaster, Craven, Alberta Beach, Regina, Lloydminster, Airdrie, Sherbrooke, Wickham, Hamilton, Edmonton, Cornwall, Montreal, Kelowna, Fernie, Duncan, Victoria, Salmon Arm, Ottawa, Toronto, Halifax, Quebec, Winnipeg, Yellowknife, Whitehorse, St John's, North Bay
South America:
Rio de Janeiro, Montevideo, Buenos Aires, Mexico City, Santiago, Lima, Quito, Guayaquil, La Paz, Sucre, Asuncion, Brasilia, Salvador, Cayenne
Europe:
Berlin, Lisboa, Montijo, Pembroke, Crete, Vienna, Erlangen, Agen, Madrid, Bruxelles, Wiltshire, Klaipeda, Marino, Mayo, Derby, Grenchen, Burgas, Cavan, Dublin, Barcelona, Vercelli, Torcy, Nordborg, Blois, Bergen, S. Lanarkshire, Salloniki, Bolzano, Parma, Oulu, Hensies, Amsterdam, Lyon, Hannover, Remscheid, Krakow, Wroclav, Arnskadsvik, Anyksciai, Vilnius, Edinburg, Uppsala, London, Paris, Rome, Hamrun, Veracruz
Russia:
Moscow, Minsk, Voronezh, Kiev, St. Petersburg, Novosibirsk, Donetsk, Borisov, Vladivostok, Biysk, Khabarovsk, Krasnoyarsk, Irkutsk, Omsk, Yekaterinburg, Chelyabinsk, Kazan', Nizhniy Novgorod, Kirov, Ufa, Perm, Murmansk, Tver
Africa:
Tripoli, Jonannesburg, Cape Town, Adeje, Nairobi
Asia:
Bejing, Hong Kong, Tokyo, Lebanon, Izmir, Ramat Gan, Sabah, Tbilisi, Yerevan
Australia:
Sydney, Darwin, Melbourne, Brisbane, Freshwater, Victoria, Pinkenba, Perth, Adelaide, Canberra, Peninsula, Albany, Esperance
About Us
LaptopScreen.com at a glance:
-> Best price and quality + rock solid warranty.
-> 13000 sq. ft. distribution centre in Seattle, USA
-> 5500 sq. ft. shipping facility in Vancouver, Canada
-> Tens of thousands brand-new laptop screens ready to ship.
-> Tens of thousands orders processed per month.
-> Same day shipping.
-> 50% are repeat customers.
-> Ordering from our website is both quick and simple.
LaptopScreen.com — an established worldwide trader of laptop screens (notebook computer screens). We focus on providing high quality laptop screens at incredibly low prices. Today LaptopScreen.com is recognized as one of the largest sellers of laptop replacement screens in the World!
Our company has been involved in laptop repair business for over 10 years. As a result, we have extensive knowledge and experience in both repair and installation of notebook screens. Our inventory has a wide range of LCD screens, including many very unique models. We have stock of everything we offer on our website www.laptopscreen.com.
We welcome international customers and are proud to announce that we have shipped to over 80 countries worldwide, even though we focus on US and Canadian market!
We made ordering from our website both quick and simple.
Our knowledgeable sales staff and award winning tech support will ensure that your experience with our company is pleasant. We respond to your urgent needs by offering speedy same day shipping for all models, extensive product knowledge, and exceptional technical support.
Here at LaptopScreen.com, our primary focus is customer service. Since customer satisfaction is of great importance to us, all screens that are on sale carry our quality warranty and all items are packaged with shipping safety in mind.   
We sell screens that are compatible with
Dell
,
Acer
,
HP
,
IBM-Lenovo
,
Compaq
,
Gateway
,
Toshiba
,
Sony
,
Apple
,
Samsung
,
Fujitsu
,
Packard Bell
,
NEC
,
Asus
,
Cicero
,
Eurocom
,
MDG
,
Averatec
and many other laptop brands.
Why are our prices the lowest in North America?
Here is an email from one of our customers, asking how are we able to maintain our rock-bottom prices (customer's name has been changed for privacy reasons):
I have a 13" Macbook that I bought in July 2007. The screen cracked earlier this week and I took it to an Apple Store where I was told it would be $800 to replace. I was doing some research and I found your website and I'm struck that you are offering Macbook LCD screens at such a low cost. Right now I'm just looking for information so I can make an intelligent decision - I don't want to pay Apple $800 to fix the screen.

How come you are able to offer such a reduced price? Is it possible that you will not have a screen model that is compatible with my Macbook? What are the risks of buying a screen from a place like yours as opposed to getting one directly from Apple?

This is a bit of a time sensitive matter because I need to get my computer back quickly in order to complete my school work. If you can get back to me as soon as possible I would appreciate it!

Thanks,
Bob
First, the LCD screens sold by our company are identical to the ones used by laptop manufacturer's during the laptop assembly. LCD laptop screen is not something that is easy to manufacture, and, as a result, there aren't any types of fake, after-market screens available on the market.

Why do laptop manufacturers charge so much? Technical information about laptop screens compatibility is not publicly available. As a result, it is very complicated to derive which screen models are compatible with any given notebook model. Laptop manufacturers are the only ones who possess this information and they try to conceal this data as hard as they can. As a result, they can charge people as much as they want.

Besides, a couple of years ago laptop screens were indeed quite expensive due to high production costs.

Today, things have changed, production cost for LCD display has been significantly reduced. Compatibility information has been collected and put together by third-party companies. Ultimately, this resulted in the availability of laptop screens from sources other than laptop manufacturers.

Today, there are many third-party companies on the market that are selling laptop screens. All these companies offer more or less same prices. However, our prices are still the lowest, with the same or higher service quality!

Here is what we do to keep our prices the lowest on the market:
1. Everything, including ordering, processing, payment and customer support, is done over the internet. This results in fewer employees involved in the process, fewer human errors, and lower overhead cost.
2. We use cost effective packaging, which at the same times gives incredible 0.032% damage rate.
3. We are always searching for better suppliers. We always will. Currently we are buying directly from manufacturers.

On a side note, we specialize in laptops only. We retail not only laptop screens, but laptops as well. Currently we operate 10 retail laptop stores in Canada. We've been in this business for over 10 years, and that's the reason why we know which screen model is compatible with your laptop.

To conclude:
Yes, notebook manufacturers quote unreasonably high prices for replacement screens while our prices are the lowest on the market, and it always will be!

(c) LAPTOPSCREEN INTERNATIONAL INC.

Tips to troubleshot some common laptop LCD screen problems.
There could be several different problems with LCD screens. Some problems are fixable and some require the LCD panel replacement. It is important to diagnose your problem before taking any radical action. Finding out the exact problem should be your first step towards successful laptop screen repair.

Your screen might appear to have small black spots, but quite often it is just dirt and can be easily removed with proper cleaning. Turn your computer off prior to cleaning. It is best to use a lint-free clean microfiber cloth with distilled water, or tap water as a last resort. Using a regular cleaning cloth might introduce dust and abrasive particles, which can further damage the screen. As well please don't use any type of solvents, since those might damage the LCD coating and make the problem even worse.

If the screen still appears to have small black spots, or if the spots are white or colorized, after cleaning, those can quite likely be "dead pixels". Dead pixels can be caused by manufacturing defects, excessive pressure on the screen, or may develop over time as the LCD panel ages. There are a few classifications for dead pixels, which affect the repairability of the LCD panel. "Dead pixels" can be stuck, hot or dead. Depending on the condition of the pixel it may or may not be repairable. Stuck or hot pixels may return to working condition over time, or if powered on/off a few times in rapid succession. You can use pixel-fixing software to run patterns on your screen to get potentially stuck pixels back into operation.

There are few different solutions and advises on the Internet regarding "dead pixels" laptop screen repairs, some of which are valid, like visual pattern generating software. Some solutions involve using excessive heat on the LCD panel, which is never recommended. Using your own discretion spend some time to try the different solutions prior to considering an LCD screen replacement. In the end, truly dead pixels cannot be revived and replacing the screen is the only option to permanently repair such problems.

Another common complaint with LCD panels is the appearance of scratches; which can develop easily if the screen is put to heavy use, or is not properly cared for. Every LCD panel is coated with a finishing solution, which is meant to reduce fingerprints, reflect light differently and to protect the fragile components. If the coating is scratched deeply, you will not be able to repair it. Using CD scratch remover solutions will actually dissolve the coating further, and transform a scratch into an unsightly spot. The only true method to fix laptop screen cosmetic appearance problems is to buy new lcd screen.

Your LCD panel might be darker then when purchased, appear to flicker, or display lines or other image imperfections; in these cases it is always recommend to make sure the problem is with the screen and not somewhere on the laptop. It is best to connect your laptop to an external monitor to make sure that none of these problems are showing - if they are, it is much likelier that your laptops video chip is failing and the problem will persist even after an LCD replacement.

As well certain problems like dimming, flickering or appearing to have no backlight can be related to a faulty inverter board, or a lightbulb inside the LCD panel. Inverter replacement is a much cheaper procedure and should be considered ahead of LCD replacement. Back-light replacement, although possible, is not recommended, due to high difficulty and a very likely inadequate picture quality, like dark spots, inconsistent colours or low light output. When getting an LCD replacement, the back-light is part of the one piece LCD panel module, and is installed by the factory to provide the best picture quality.

In some cases you laptop screen won't turn on, or the laptop screen is black but the laptop is making all the regular "beeps, blips and sounds". Such issues can stem from a variety of factors, and it is best to test out all the possibilities. If the screen doesn't turn on, your video card might be the problem, and in most cases it can be tested by connecting an external monitor - if the external display shows image, but the internal screen is black, your video card is most likely intact, although in more rare cases such test has not always been 100% consistent - meaning if the external monitor works, video card may still have issues getting an image to the laptops LCD panel. Another simple solution for screen not turning on can be a video cable reconnection - if the laptop is bumped, dropped, the lid is open once too many times; the video cable can get disconnected or pop out a little. It is best to take the computer apart and examine the connection to the LCD panel and to reconnect the video cable. It is also a good idea to write down the LCD model number - just in-case. Make sure to disconnect all sources of power when poking inside the computer.

If your screen is still not turning on, try to recall details of the computer's operation prior to the problem. For example if the screen was showing reddish hue, then it is a tell-tale sign of a CCFL bulb reaching the end of it's life-cycle. If your screen works intermittently, and won't turn on every other time, then you have a problem of electrical contact firstly, and a potentially dying component secondly. Electrical contact problems almost always trace back to a bump, while dying components can be one of the more challenging problems to solve. If an unknown component is failing, it is best to follow a least-loss scenario, where it makes sense to replace the negligent-cost components like the inverter or the video cable first, and then move onto LCD replacement.

It is very important to keep account of events preceding the problem, since display problems can stem from a variety of components and supporting systems, expecting the replacement of the LCD to be a 100% effective solution when the problem is unrelated to that part can be a source of frustration and disappointment.

If you are absolutely certain that your LCD panel has to be replaced; it is most cost effective to replace it yourself. Even if you have never done it, or do not consider yourself to be a technical person, replacing your laptop's screen is easier than most commonly thought. Generally all you need if a philips screw driver and 30 minutes of your time. On average only 10 to 14 screws separate you from removing the old screen; and reinstalling the new panel is even easier once you've learned how to remove the screen. There are picture and video tutorials available for your specific laptop, and in case you could not find an exact one, any LCD replacement tutorial will give you a general idea on what's involved.

Finding an LCD panel for your laptop can be a challenge of it's own; if you call your computer manufacturer, they will most likely quote an unreasonably high price. It is best to find an established on-line retailer, like LaptopScreen.com, then it will cost you much cheaper. Most LCD panels go for about $50-$150, and the price will depend on the screen size, back-light and manufacturer. We carry a super huge inventory of screens, suitable to replace your faulty screen. If you are unable to find the right one, or not sure if the one you're looking at is the correct one, give us a call or send an e-mail to support department to be sure that the screen will fit prior to ordering.