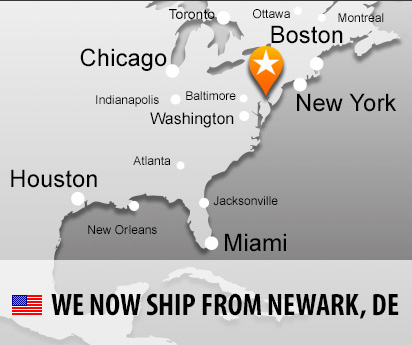 Bringing in the New Year, Laptopscreen.com is happy to announce some exciting changes to further benefit our customers with their purchases.
We are happy to announce our grand opening of our second shipping  facility in the USA, now located on the east coast in Newark, Delaware. This new location will provide speedier delivery at reduced costs for customers located on the east coast of the USA. Customers living in the state of Illinois or to the east will now have the option to ship Fedex Ground (commercial) and Fedex Home (residential). Not only will the shipping cost be less expensive but they can receive their package in 1 or 2 days. If you have a business name in your address it will be shipped Ground with deliveries Monday to Friday. However if you have a home address, the deliveries are made Tuesday to Saturday and will even deliver late in the evening.
Please note: Customers living in Washington, Idaho, Utah and Oregon will have Fedex/UPS ground shipping from our Seattle warehouse available, but only for single screen orders. Estimated delivery times will be 1 Day for Washington and 2 days for the other 3 states.
We would like to announce our new manufacturer's defects warranty coverage on all of our screens. We now offer a LIFE-TIME warranty on your purchases. Yes, a life-time warranty, which will cover your screen against any manufacturers defects for the entire life of the device that you bought the LCD replacement for.  We have also extended our return policy from 30 days to 45 days, with zero hassle cross shipping exchanges or refunds on all purchases.  Please note that all purchases made before January 1st 2017 will have the original 3 year manufacturers warranty as detailed in thereceipt.
More details about our new warranty policy can be read here http://www.laptopscreen.com/English/article/Warranty/
Copyright (©) LaptopScreen.com