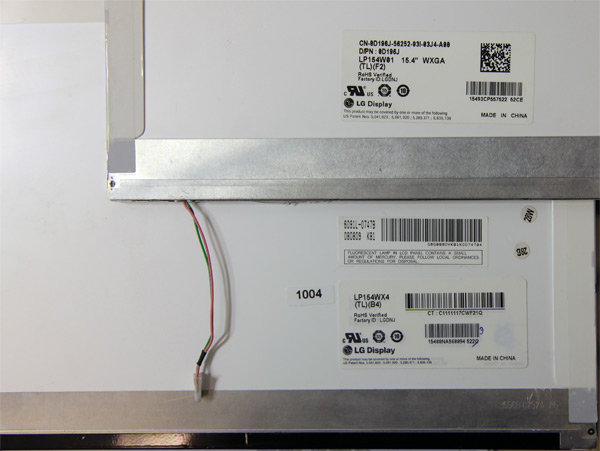 Truth is, during the production run laptop manufacturers can use more that a few different LCD models for any single laptop model, the screens can even be from different manufacturers.
Additionally with time some LCD panels become no longer available and will never become available.
So the gist of the matter is what's available today for a laptop that was made 1, 2, 5 or more years ago.
In today's world you can show up at an electronics supermarket and take a look at a certain model camera or TV and by the time you come back a week later,
that model will be replaced by a different, newer and better device. It's utmost inconvenient and confusing.
In the field of laptop LCD technology, dozens if not hundreds of new models are born every day.
To further exacerbate the problem, each specific model can be produced only in one swift run, never to be repeated again,
and the chances of getting the same one in brand new condition even a month later, for some models, are nearly zero.
This definitely poses a problem for a person wishing to replace their screen on an older computer:
if the original model is not available, user is forced to seek alternatives, do massive research, take risks, and generally feel even more lost.
Here at LaptopScreen.com we've made it our business to know which LCD screens work with which laptops.
When a model of LCD is no longer available from our top level suppliers,
we make all efforts to contact lower level suppliers and purchase all of their dwindling stock of the discontinued panel.
When even that avenue is no longer available, LaptopScreen.com conducts testing in it's own facilities, with each specific laptop,
to see if the newer panels of identical standard will work, then a mark in the database is made, and the newer panels are released for sale.
Another important principle of LaptopScreen.com to mention is that we don't focus primarily on the markups or finding quick ways to make a buck;
the fact is, most LCD panels are priced remarkably close together,
and brands such as Samsung and LG are of comparable supply price to the lesser known ones like ChiMei or AU Optronics;
so when the price is not a big concern, the next logical pursuit is the quality.
We prefer to sell the best of the bunch, and prioritize our preference to brightness, color gamut and viewing angles.
Therefore, when seeing a different model LCD or even manufacturer, customer can verify the size, mounting points and connector positions,
and proceed with the installation. Please follow our tutorials closely and take your time if doing the repair for the first time.
Copyright (©) LaptopScreen.com