When ordering from us, you have an option to have your order ship from a 6,000 sq. ft. facility in Gatwick, UK. This will result in a faster and cheaper delivery for our customers in European countries,  UK, and Northern Ireland.
Deliveries within the UK are handled by Royal Mail and UK Mail. Deliveries outside of UK will be handled by Aramex, UPS and DHL. All available shipping options (and estimated arrival time) will be listed at the checkout.
LaptopScreen is an established worldwide trader of laptop and tablet screens. We provide high quality laptop screens at incredibly low prices. Today LaptopScreen is recognised as one of the largest sellers of laptop replacement screens in the world!
Approximate shipping Tariffs (in £).
England, Scotland & Wales
Royal Mail 2 to 3 Working Days – £3.99+VAT
Royal Mail Next Working Day Delivery – £6.99+VAT
Scottish Highlands & Islands, N.Ireland, Isles of Man & Scilly
UPS or Royal Mail 2 to 3 working days – £6.99+VAT
International delivery estimated tariffs and time, excl. VAT,
exact prices and time estimates are provided during the check-out.
Country Estimated time Average prices  
Andorra 3 days  ________________________________ 21.94 €
AUSTRIA 3-4 days ______________________________ 10.14 €
BELGIUM 2-3 days _____________________________ 10.12 €
BULGARIA 4-6 days ____________________________ 13.36 €
Channel Islands 2 days __________________________ £17.41
CZECH REPUBLIC 3-4 days _____________________ 12.42 €
DENMARK 3-4 days ____________________________ 10.65 €
ESTONIA 4-5 days  _____________________________ 16.03 €
FINLAND 4-5 days _____________________________ 19.49 €
FRANCE 2-3 days ______________________________ 10.01 €
Greece 2 days _________________________________ 17.65 €
GERMANY 2-3 days ____________________________ 10.01 €
HUNGARY 4-5 days ____________________________ 11.99 €
ITALY 3-4 days _________________________________ 10.47 €
Ireland 2-3 days ________________________________ £10.00
LATVIA 4-6 days ________________________________ 15.80 €
LITHUANIA 4-6 days  ___________________________ 13.08 €
Liechtenstein 5 days ___________________________ 21.94 €
Lithuania 3 days _______________________________ 19.42 €
LUXEMBOURG 2-3 days  _______________________ 10.47 €
Monaco 2 days ________________________________ 12.46 €
Northern Ireland 2 days ________________________ £10.00
Norway 3-4 days ______________________________ 21.94 €
NETHERLANDS 2-3 days ________________________ 7.94 €
N. IRELAND 2-3 days ___________________________ £13.00
POLAND 4-5 days _____________________________ 11.65 €
PORTUGAL 4-5 days  __________________________ 13.05 €
ROMANIA 4-6 days  ___________________________ 15.33 €
SLOVENIA 4-6 days  ____________________________ 9.87 €
SPAIN 3-4 days  ________________________________ 8.72 €
SWEDEN 4-5 days ____________________________ 14.85 €
SLOVAKIA 3-4 days ___________________________ 11.70 €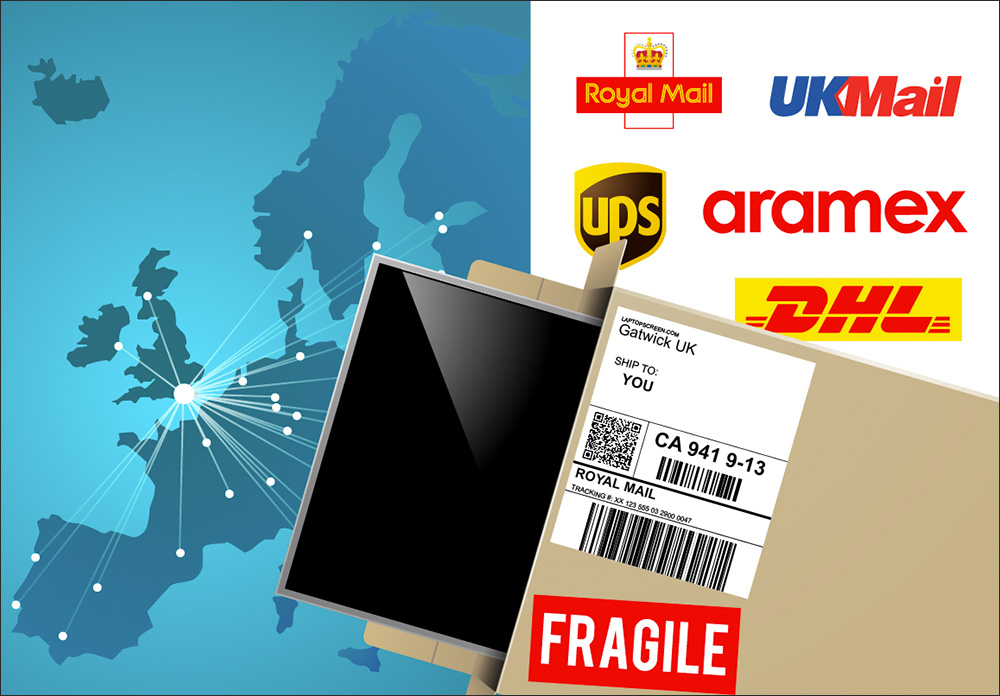 Copyright (©) LaptopScreen.com