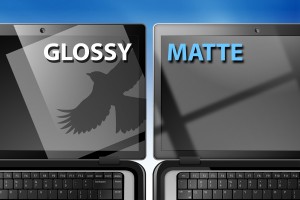 One of the most common questions asked in our call center: "What finish type do I have?"
The easiest way to tell is by looking at the front of the screen (powered off). If you see your own reflection, as in a dark-coated mirror, the screen is glossy; and if al you see is plain shade – the screen has a matte finish.
Most of the listings on our website will give you an option for either a Glossy or a Matte screen. Matte and Glossy are merely finish types. The finish does not affect compatibility, and is a sole matter of your personal preference. Laptop screens with glossy and matte screens are entirely interchangeable since the difference lies only in the type of the screen surface finish.
If your laptop did not ship with Matte finish, and you see a Matte screen offered on our site, it is not because "we don't know what we are doing", it is because – whenever possible, we like to provide options for the choice of the finish type, even if the manufacturer did not offer these options over the counter.
Glossy screens have a reflective finish with brighter and more vivid colors and are best suited for multimedia such as viewing photos or playing games and videos.
Matte screens have less reflectivity and are easier on the eyes. They are best for laptops mainly used in brighter locations such as offices, classrooms or outside.
Normally, the laptop manufacturers will put glossy screens in the consumer-line laptop models (e.g. HP Pavilion, Toshiba Satellite, Dell Inspiron etc.), and matte screens in the business-line laptop models (e.g. HP Presario, Toshiba Portege, Dell Latitude). However, this will vary from model to model.
Each laptop manufacturer coined an alternative name for their glossy type screens:
Acer – CrystalBrite
Acorn – Vybrio
AG Neovo – NeoV Optical Filter
Ahtec – Glare
Alienware – ClearView
ASUS – ColorShine
Averatec – AveraBrite
Dell – TrueLife
Everex – DiamondBrite
Fujitsu – CrystalView, SuperFine
Gateway – UltraBrite
HP-Compaq – BrightView
IBM-Lenovo – VibrantView
LG – FineBrite
NEC – OptiClear, SuperShine
Packard Bell – Diamond View
Sager – Super Clear
SONY – XBRITE, XBRITE–ECO, X–black, ClearBright, ClearPhoto
Toshiba – Clear SuperView
For the questions about the finish type, or any other LCD-related questions, please do not hesitate contacting our support team at 1-855-630-1111, through contact us form, or via LiveChat.
Copyright (©) LaptopScreen.com