NOTE: STARTING MAY 2ND, WE HAVE MORE TOUCHSCREEN DIGITIZERS IN STOCK – see this post for more information:
A LIMITED AMOUNT OF TOUCHSCREENS FOR SELECT LAPTOP MODELS IS NOW AVAILABLE FOR PURCHASE!
---
In the past 3 years more and more laptops are made with the touchscreen capabilities. Tablet computers are all made with touchscreen capabilities. So when you drop or otherwise damage your beloved device, you may need to replace either just the LCD, just the touchscreen, or both. We have already explained the difference between an LCD and a touchscreen, and here it is in a nutshell:
Touchscreen = the outside glass, that you are touching to control the laptop/tablet.
LCD screen = the "inner" screen, the part that displays the image.
An easy way to tell which one needs to be replaced is to turn the device on, and test it. If the image shows fine, but the front glass is shattered, you need a new touchscreen (AKA digitizer); if the front glass is intact, but the part that shows image is broken, you need a new LCD; if you can not see the image properly, and the front glass is broken, you need a new assembly, e.g. the LCD + the touchscreen.
On laptops, in the vast majority of cases, the LCD and the touchscreen are produced and sold separately. There is a very limited amount of screens that come with the digitizer attached from the manufacturer, and here is the list of the ones known to us:
N116B6-L07
B156XTT01.0
B140XTT01.0
LP156WH8(TL)(A1)
Please note, that it is extremely difficult, if not impossible, to turn an initially non-touchscreen to a touchscreen laptop using these screens. Keep in mind, that all parts in the laptop are very narrowly fitted; so if the laptop is designed to house a just a bare LCD panel, most likely the panel that has a digitizer attached will not fit in properly.
For tablets, you are given an option to order either a bare LCD, a bare touchscreen, or, sometimes, a combination of both (e.g. assembly). For instance, for a Samsung Galaxy Note TAB GT-N8010, we have 3 parts: a white touchscreen, a black touchscreen, and a bare LCD panel.
In doubt? Have questions about your old or a future order? Make sure to contact us.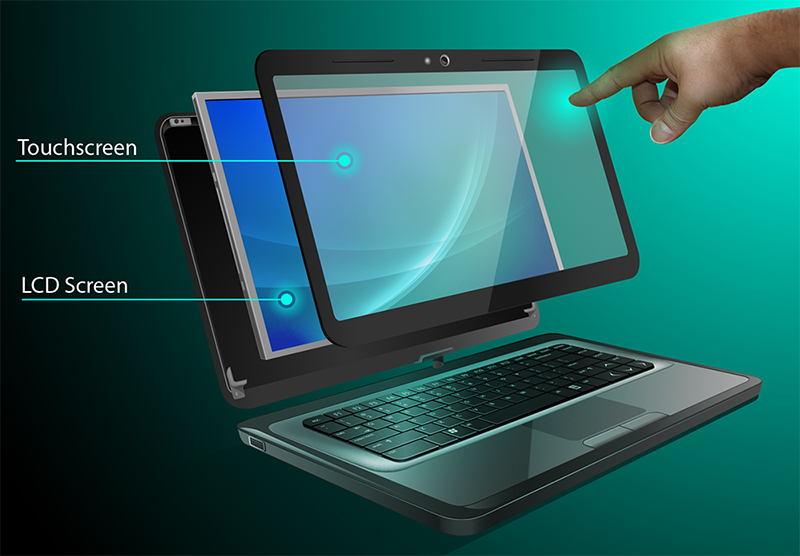 Copyright (©) LaptopScreen.com