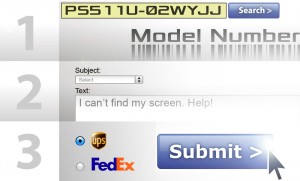 Customers have called up, thinking we have generic LCD screens, and asking for the price on a 16″ laptop screen. There is no such things as a "generic" laptop screen, that will fit all brands.
Screens come in different sizes, resolutions, and have different backlight types.
Sometimes, the screen you receive has a different model number from what was ordered, or different from your original one. Some screens on the market are interchangeable, and we spend an extensive amount of time to make sure that what we are sending is compatible.
The key thing to note here is that there's plenty of information available, online or gained by calling our support line. Even if Customer A ends up with the wrong/incompatible screen for their laptop, LaptopScreen.com would still assist him. Leaving a negative review for everyone to see, before even trying to let us resolve your issue, is not going to help anyone.
We send exactly what was ordered.
Picture this, if you will:
Customer A goes to LaptopScreen.com and types in the model of his laptop, in the search bar. Despite the numerous results available, Customer A simply selects one of the screens and orders it.
Versus:
Customer B follows the video tutorials available on LaptopScreen.com to remove the LCD screen from his laptop. He then locates the LCD screen model number on the back and searches for it on LaptopScreen.com. To make sure he is ordering the correct screen, Customer B compares the LCD screen he has with the picture on our website.
Now, which customer do you think is more likely to get the correct screen to fit their laptop?
In this recent post we have explained why do we sometimes send a screen with the model number different from original. We have been in a laptop repair business for over a decade now, and have gathered an extensive knowledge about the compatibility and cross-compatibility of the screens; thus we can be sure that what we are sending is going to work with your machine.
So, how to order a laptop screen in 3 easy steps?
2. If there is more than one option, and you are not sure what the difference between them is, please contact us. If possible, confirm the size, resolution and backlight type of your original screen, to make sure they match the information provided on the website*. Refer to the pictures provided to make sure the screen has the same mounting (if any).
3. Select the appropriate shipping method and verify the price prior to clicking "Submit". Once the order is placed, the card will be charged for the amount listed in "Total".
* – note, that some laptops are sold with more than one type of the screen. For example, Dell 1545 has options for screens with CCFL 1-bulb, LED with HD, HD+ or FHD resolution. In case such as this, it is a good idea to contact our support department to get more information. We are here to help!
Copyright (©) LaptopScreen.com