Some of the more common inquiries we receive are related to whether a certain item is in-stock and if not, how long will it take for it to become available.
We are a high volume supplier, and we pride ourselves on making a wide assortment of laptop screens available to our customers on-demand, and making sure that we ship these items the same business day. All our inventory is live, and our website is the most current source of information regarding availability of any particular item. But what should the customers do when an item is shown Out of Stock on our website?
Click the Notify me button and input an e-mail to get on the list!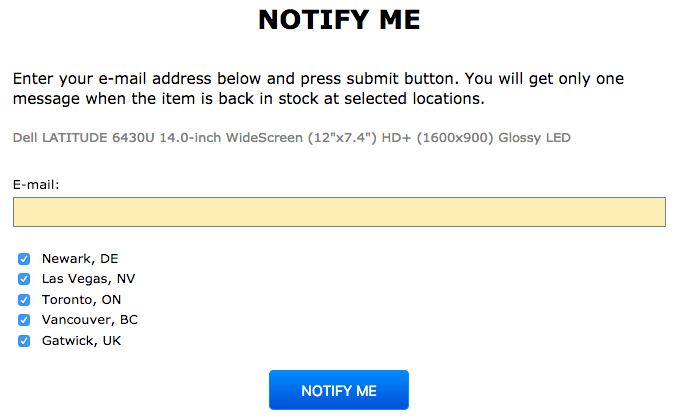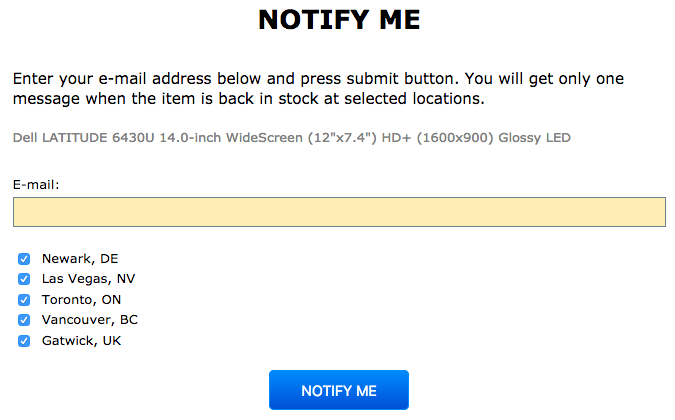 We provide an option to select a particular warehouse, which is useful for customers who wish to avoid cross-border shipping. And for our European customers we provide an option for notifications for item availability at our specific UK warehouse, even when the item is available at our North American locations.
How long does it take to get the notification? Depending on the popularity of the item, most in-demand screens are restocked on a weekly basis. If you put yourself on the Notify me list, you will receive an automatic e-mail as soon as the item is available. One thing to note: the Notify me list is a first-come first-served automated list. Everybody on the list will receive a notification as soon as the item is available, which may result in a quick sell-out of the entire stock if an item was restocked in limited quantity or if the notification list was unusually large.
What do you do with the Notification list e-mails? With an exception of a one-time e-mail notification, we do absolutely nothing with the e-mail addresses entered on the Notify me list. Our site is configured to serve the Notification list automatically: addresses are collected and stored until a notification goes out, then the list for a particular item is purged each time the notifications are served. This ensures that e-mail addresses are kept private, confidential and not used for any marketing purposes by us or any 3rd parties. Unfortunately that means that an e-mail must be entered into the list again in-case the item goes out of stock again after the notifications go out.
Copyright (©) LaptopScreen.com