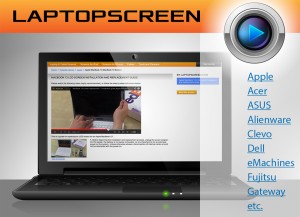 As some of you may know, we have a large video library with the screen replacement tutorials – probably the most extensive video tutorial library of its kind in the LCD repair business. So far, our videos have been viewed over 2,826,171 times!
As of today, we have accumulated 1086 (and counting) videos – the complete library is available here. The best videos are displayed on our website in a separate section. Some of these tutorials were created in-house by our team, however, the majority of them were contributed by our beloved customers.
This goal behind creating this library is aimed towards building a comprehensive public laptop screen replacement instructions database, rather than an incentive to purchase from us.
The guidelines for a tutorial are easy and straightforward:
1. The video of the screen installation must have on-screen or spoken instructions. 
2. The submission must be set to be viewable by public. 
3. The video must not contain anything offensive, unclear, misleading. 
The videos in our library are grouped by the brand of the laptop or the tablet. Some of the tutorials (such as this one) have both the video explanation, and the step-by-step picture tutorial, for those who prefer written instructions.
If there is no tutorial for your specific laptop model consider similar model or series tutorial as it will be highly relevant to your repair. For example, if you have a Dell Latitude D830, and it is not available, seek for a tutorial for a Dell Latitude D820 or for a Dell Latitude D620, as it is very likely that the process for replacing the screen will be the same (or at least very similar).
Among my most favourite tutorials is the iPhone 4 replacement, where we have created a screw map to help you distinguish differently-sized screws that were used in the assembly from one to another. The entire tutorial for the iPhone 4 can be found here.
Our most viewed customer submission is for HP DV7, with 103,667 views as of Feb. 22, 2014. The most viewed tutorial made by our in-house team is for an HP DV6000, with 494,347 views.
Here are the examples of our favourite submissions:
There is nothing wrong with leaving a positive "Thank you" comment to the author of the tutorial you have found useful!
Copyright (©) LaptopScreen.com