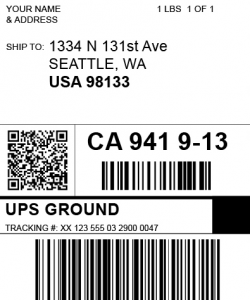 Since the last week we have started offering free returns for the orders shipped to the continental United States and Canada, thus eliminating the reason to purchase an additional Return Shipping Insurance (RSI). So, if you have ordered a wrong screen, want to exchange your screen because you did not like the finish type, or would like to try TN display vs. an IPS display, you are welcome to contact us to get your Free Return Label.
NOTE: Returns are free within 30 days only!
Getting a return label has never been easier: you just need to submit us a support ticket via this page. While not a requirement at all, we would appreciate if you could add the reason for the return – e.g. did not work / did not need / dead pixels / etc. This will simply ease the restocking process for us, which will result in lower overhead, thus, translating into smaller processing costs in the future.
Free returns do not mean that you will be credited if you decide to ship the item back to us using your own shipping courier – instead, please contact us for your return label, which will be issued free of charge.
Free return shipping does not indicate that the original shipping charges will be refunded. For example, if you buy a $50 item and pay an additional $10 for shipping, then, you receive the screen, contact us and get the label, send it back for a refund in its original condition with the original packaging and packing materials, you get a $50 refund, no restocking fees applied.
Please note, that the free returns are currently offered to our clients in the from the Continental United States; which include 48 states, all except Alaska and Hawaii; and all major cities in Canada, where UPS operates.
Remember, here at LaptopScreen we guarantee a working replacement or your money back!
Copyright (©) LaptopScreen.com