In the current market, there is far more than one screen manufacturer, and, as such, there is far more than one model number of the LCD screen. All manufacturers have a different structure for the model number, and with this post we will explain the meaning of the LG Phillips-made LCD model numbers.
Manufacturers codes for the most common LCD makers:
AU Optronics – B
ChiMei Innolux – N
Chunghwa – CLAA
HannStar – HSD
Hitachi – TX
LG Philips – LP
Lucom – F2
Quanta – QD
Samsung – LTN
Sharp – LQ or LM
After the manufacturer's code follow 3 numbers, which identify the screen size. For example, LP156WH1(TL)(A1) indicates that the LCD is 15.6″ wide (diagonally). The most common screens sizes are: 10.1″, 11.6″, 12.5″, 13.3″, 14.0″ 15.6″ and 17.3″.
Besides the manufacturer and the size, it is also possible to tell the pin assignment configuration by knowing the LCD model number. These parameters depend on the manufacturer.
LG Phillips.
Example of a model number: LP156WH1(TL)(A1);
For LG Phillips-made displays, the second two letters after the screen size represent the resolution of the display:
WH = 1366×768
WD = 1600×900
WF = 1920×1090
The first letter in the first set of brackets identifies the panel type (TN vs. IPS):
(Tx)(xx) = TN screen
(Sx)(xx) = IPS screen
The second letter in the first set of brackets tells us how many pins the LCD socket has:
(xP)(xx) = 30pins
(xL)(xx) = 40pins
The second bracket identifies what laptop the LCD was initially manufactured for. This is not very important, because, as you know from our previous posts, a lot of LCD screens are cross-compatible, and, as such, can be used in different models of laptops.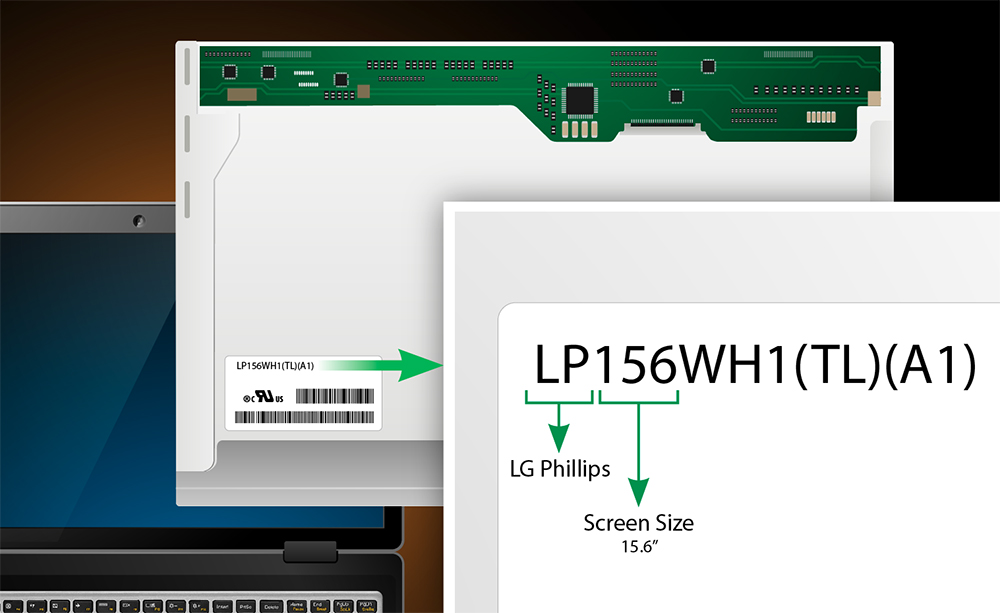 Copyright (©) LaptopScreen.com