As we described in our previous post, there are 3 types of pixel abnormalities: dead, hot, and stuck. Dead and hot pixels are the ones that always display black or white, while stuck pixels display red/green/blue. You can not get rid of the dead or hot pixels; however, getting rid of a stuck pixel is easier than it seems.
There are several methods for that:
1. Using external software, such as UDPix. Such software flashed bright colours across the display, and calls pixels to do rapid changes. You need to run this program for a couple of hours. There is no warranty on the result, but you don't really have anything to lose trying it out.
2. Using pressure method. Locate the pixel. Using a narrow object with a blunt and dull end (so you don't scratch the LCD surface) gently tap the stuck pixel. Don't tap too hard to start with, but just enough force to see a quick white glow under the point of contact. If you didn't see a white glow, then you didn't tap hard enough, so use just slightly more pressure this time. Increase the pressure on the taps gradually for 5-10 taps until the pixel rights itself.
If your tapping did not help, grab a damp (but not wet) washcloth or paper towel. Fold it so that you don't accidentally tear it, and hold it over the stuck pixel. Apply gentle but consistent pressure with the same object you used for tapping.
3. Using soft cloth method. Put the washcloth in a colander, and dump hot water over the washcloth. Put on protective gloves, or cover your hands with oven mitts. Put the hot washcloth in a plastic sandwich bag, and make sure the seal is completely closed. Move the bag around the pixel a bit in a massage-like motion. The heat generated will cause the liquid crystal to flow more easily into the areas that were not formerly filled.
Just make sure that the bag does not open or rip, otherwise you may be left with the water damage, which is far more dangerous for your computer.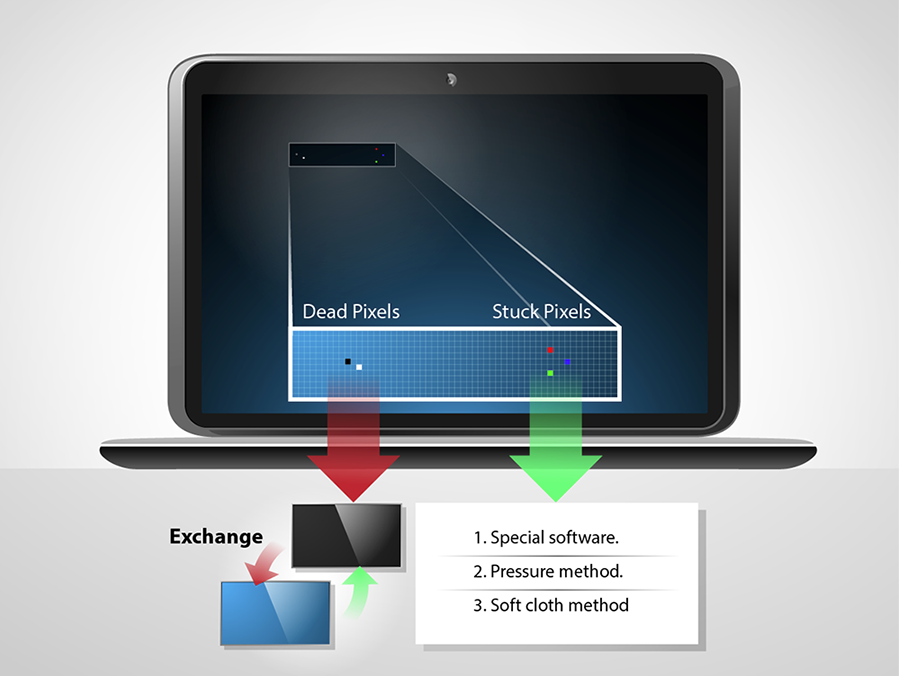 Copyright (©) LaptopScreen.com