Inverter is a pen-sized board that is usually placed on the bottom of the LCD screen, either in the same case with the LCD screen, or above the keyboard. The inverter is one of the key parts within a display; it allows for the laptop's display to be lit by providing power to the screen's backlight.
As you know from our previous blog posts, there are two types of LCD screens: LED and CCFL.
LED and CCFL are merely the backlight types – everything else is just the same. As LED [Light Emitting Diode] screens don't need the high voltages as of a cathode lamp, and LEDs require a DC voltage, the LED screens do not use the inverter.
So,
LED SCREENS DO NOT COME OR USE POWER INVERTERS.
That leaves us with the CCFL (Cold Cathode Fluorescent Light) backlight type screens.
The only company that uses screens that have an inverter attached to the LCD is Dell. Normally, the inverter will be held by two screws; however, in some cases, instead of screws, a double-sided tape is utilized.
Note: not ALL CCFL screens for Dell will have an inverter attached to the LCD. The easiest way to tell if the screen comes with an inverter is to look at the picture of the screen. For example, on a classic Dell Latitude D620, all screens come with an inverter attached to the bottom of the LCD.
However, on a Dell Vostro 1720, the CCFL screens do not come with inverters.
Anytime you are uncertain about the screen specifics, make sure to contact our support department.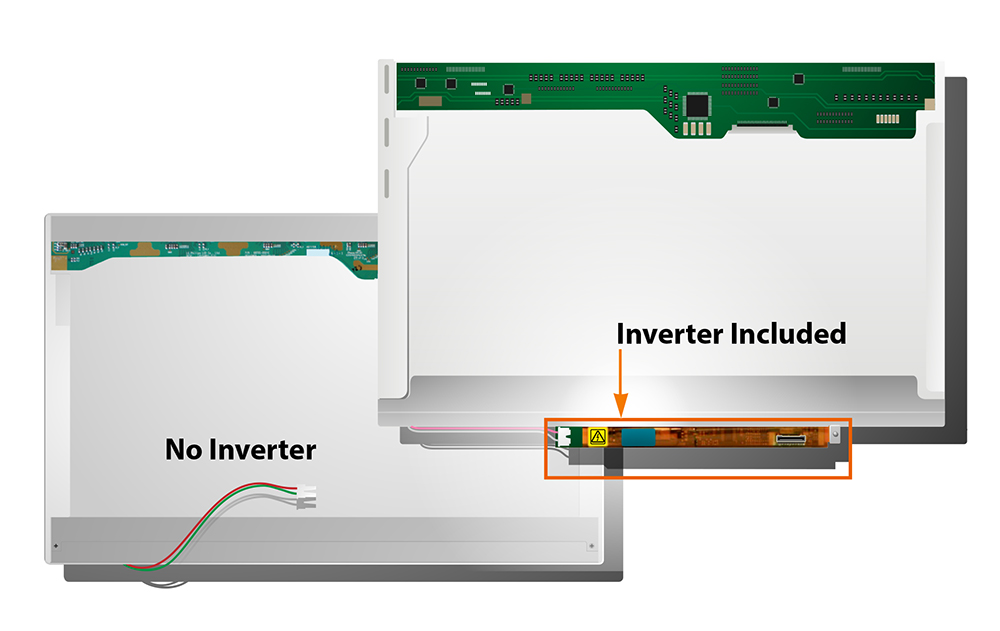 Copyright (©) LaptopScreen.com