There are several types of LED screens for some of the newer laptops. A few recent laptops were made with an optional upgrade from a regular TN display to an IPS model. These two types can be interchangeable without having to replace any other parts.
For example, a 11″ HD TN LCD N116BGE-EA2 can be upgraded to an IPS version N116BCA-EA1.
A 14″ FHD TN LCD B140HTN01.0 can be upgraded to an IPS version B140HAN01.0.
A 15.6" HD TN LCD LP156WHB(TP)(A1) ,  LP156WHB(TP)(C1) , or  LTN156AT39  can be upgraded to an IPS HD version LP156WHA(SP)(A1).
A 15.6" FHD TN LCD B156HTN03.0 can be upgraded to an IPS FullHD version LP156WF4(SP)(B1).
TN displays suffer from limited viewing angles, especially in the vertical direction. Colours will shift when viewed off-perpendicular. In the vertical direction, colors will shift so much that they will invert past a certain angle. Most TN panels represent colors using only six bits per RGB (Red, Green, Blue) colour, or 18 bit in total, and are unable to display the 16.7 million color shades (24-bit truecolor) that are available from graphics cards.
Generally speaking, TN is not better than IPS, or vice-versa. Gamers will generally be happy with TN panels because of the exceptional response time; photographers and graphic designers should buy an IPS monitor instead for they have a higher colour accuracy.
IPS technology was developed in mid-1996 by Hitachi, and sold to Panasonic in 2010.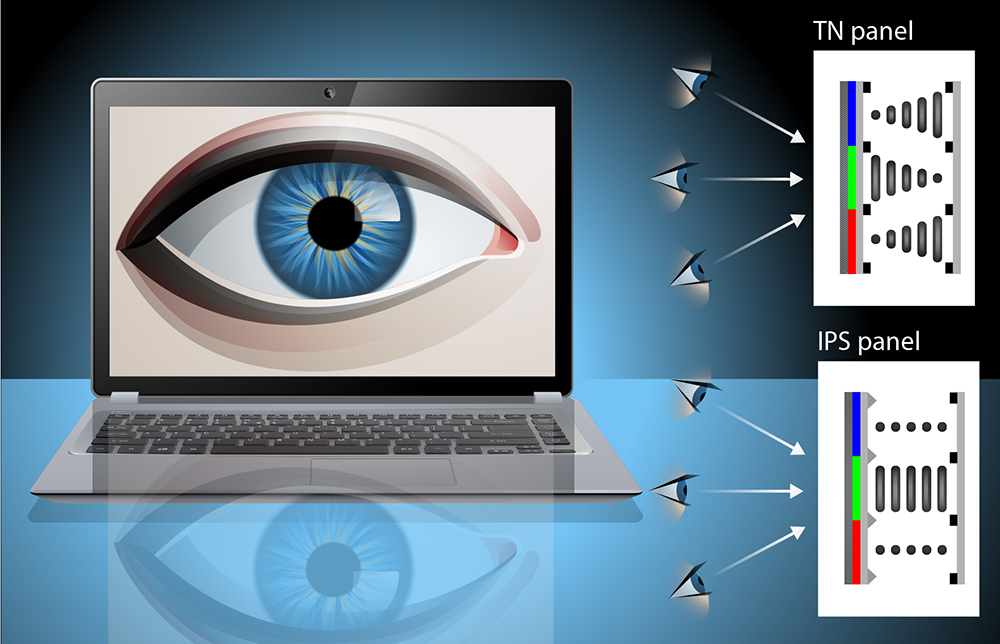 The differences in a nutshell:
TN = Twisted Nematic.
IPS = In-Plane Switching.
IPS panels.
Pros: better viewing angles, generally a better colour accuracy.
Cons: higher response times (the best response time is 5 milliseconds vs. 2 milliseconds for TN panels), more expensive than TN panels.
TN panels.
Pros: lower response time, generally cheaper price than IPS.
Cons: worse colour accuracy, poorer viewing angles.
Q: Can I upgrade my FullHD TN LCD screen to FullHD IPS
A: Yes, generally speaking TN and IPS screens are cross compatible, as long as they share the same resolution, backlight type and connector size. There are some rare cases where a laptop models Full HD TN and Full HD IPS are not compatible. See Dell Model E6540 as an example.
For this model the TN display is 40 pin while the IPS display is 30 pin, which means they are not directly compatible without having the need to change the flat ribbon cable.  Therefore it is essential that if you plan to change from TN to IPS you ensure that all the details match first.
Q:Can I upgrade my HD TN LCD screen to FullHD IPS?
A: We do not recommend upgrading or downgrading screen resolution, as it can cause issues with the video card or pin connector cable assembly. Different resolutions require different pin assignments in the connecting cables, if you change resolutions the signal will not come throughout the pin connector correctly and the image will appear pixelated or will have vertical lines throughout.
Please speak with your manufacturer regarding upgrading your screen as it is likely there are other parts that will need to be upgraded as well.
For more information, please see this article.
Copyright (©) LaptopScreen.com