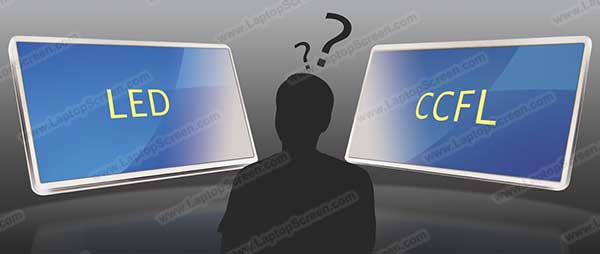 In the overwhelming majority of cases our customers pick the correct LCD for their laptop and have a very pleasant LCD replacing experience.
Laptops and LCDs come in myriads of models and configurations and in order to pick the correct LCD the following points have to be considered:
By far the most overlooked aspect of screen replacement is the fact that several thousands of models of laptops, which were typically released between 2007 and 2012, were part of the transitional period of two key backlighting technologies which are not easily interchangeable. At the time of writing (second half of 2013) most computers are released with LED backlights – they are backlit with an array of Light Emitting Diodes. LED technology came to replace the previously used CCFL technology which utilizes Cold Cathode Fluorescent Tube as the main source of backlight. Because of the transition many laptops would have shipped with either LED or CCFL displays, therefore it is important to be aware of these two incompatible options when making a selection for your 2007-2012 laptop.
Our site is configured to display all available options that have shipped with the laptop, and as such the listings for laptops which came with more than one backlight technology will contain items that use both LED and CCFL backlight. It is very important to know the exact backlight type your computer uses. This information can be found in spec sheets and manuals, but we find that even those are sometimes inconsistent or plain wrong, so we highly recommend verifying the original screen by actually looking at it from the back and comparing it to the pictures listed on our site.
Another commonly overlooked fact is that touch-screens, pen inputs (drawing tablet type), glass bezels and covers are not part of the LCD. Liquid Crystal Display has typically only one function – displaying visual images. Keep in mind that If your laptop comes with touch functionality, pen detection or it covered by "edge to edge" glass, replacing the LCD by itself may not resolve the issue. Typical touchscreen / glass bezel is overlaid on top of the LCD and is considered to be an independent device, not directly related to the LCD (except for it's immediate vicinity)
In certain cases we may offer entire "top covers" / "back covers"; these contain an LCD itself as well as the appropriate peripherals like a web camera, microphone, Wi-Fi & BlueTooth antennas, bezels, hinges, touch-screens, fingerprint sensors, e.t.c.
But in all cases where the LCD is shown and the description says "LCD panel" you are most likely to receive the LCD module alone and no extra accessories. Please be extra sure of what is actually broken before ordering a display.
And lastly, a word about our prices: we offer the most competitive market prices. Your LCD selection should not be affected by the price of the part. If you pick a cheaper but incompatible part, your perceived savings will quickly evaporate as you are faced with returning the unneeded part and re-ordering the proper one. Looking at pictures and specs will guarantee a proper selection, price should only be a consideration once the type and spec of LCD has been determined.
Copyright (©) LaptopScreen.com